VICE CHANCELLOR S POSITION
The Shifa Tameer-e-Millat University, Islamabad through the Vice Chancellor's Search Committee invites applications for the position of Vice Chancellor. Candidates meeting the conditions given below may apply for the post.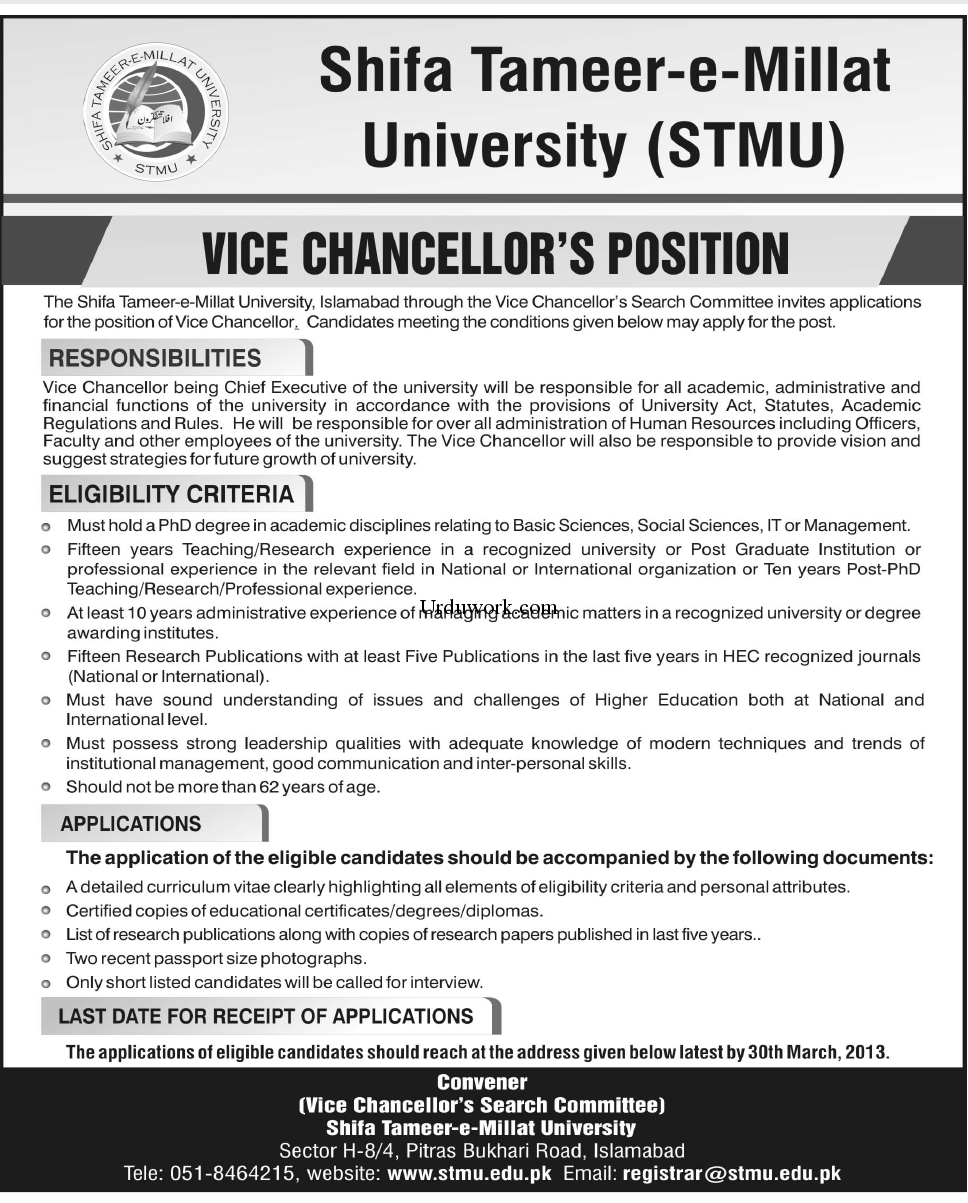 RESPONSIBILITIES
Vice Chancellor being Chief Executive of the university will be responsible for all academic, administrative and financial functions of the university in accordance with the provisions of University Act, Statutes, Academic Regulations and Rules. He will be responsible for over all administration of Human Resources including Officers, Faculty and other employees of the university. The Vice Chancellor will also be responsible to provide vision and suggest strategies for future growth of university.
ELIGIBILITY CRITERIA
Must hold a PhD degree in academic disciplines relating to Basic Sciences, Social Sciences, IT or Management. Fifteen years Teaching/Research experience in a recognized university or Post Graduate Institution or professional experience in the relevant field in National or International organization or Ten years Post-PhD Teaching/Research/Professional experience.
At least 10 years administrative experience of managing academic matters in a recognized university or degree awarding institutes.
Fifteen Research Publications with at least Five Publications in the last five years in HEC recognized journals (National or International).
Must have sound understanding of issues and challenges of Higher Education both at National and International level.
Must possess strong leadership qualities with adequate knowledge of modern techniques and trends of institutional management, good communication and inter-personal skills. Should not be more than 62 years of age.
APPLICATIONS
The application of the eligible candidates should be accompanied by the following documents:
A detailed curriculum vitae clearly highlighting all elements of eligibility criteria and personal attributes. Certified copies of educational certificates/degrees/diplomas.
List of research publications along with copies of research papers published in last five years..
Two recent passport size photographs.
Only short listed candidates will be called for interview.
LAST DATE FOR RECEIPT OF APPLICATIONS
The applications of eligible candidates should reach at the address given below latest by 30th March, 2013.