ISRA University owned by isra Islamic foundation IIF ,Which is a non organization.The university is ranked highly by the higher education commission.HEC of Pakistan.The university ids offering several degree programming ranging from bachelor in a wide verity of study.
Liaquat University Of Medical And Health Sciences Sindh jamshor Need huge rang of appplicat for various jobs for professors Associate Professor,assistant professor and lecturers.
Benazir Bhutto Shaheed University Jobs 2019 Lyari Karachi Sindh Required Applications Invited For The Following Potions On Contract And Regular Basis.
Professor Required At Sindh Agriculture University Tandojam
Visiting Faculty Required At Sindh Madra Tul Islam University
Sindh Madressatul Islam University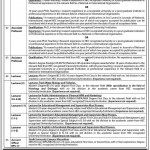 Professors, Lecturers & Administration Job Opportunity At University of  Sindh Jamshoro